Welcome to North Beach



Closed in 1921. It was located on the Northern Queens shore in East Elmhurst. Locals of the day called that part of Queens "Frog Town". Before the Grand Central Parkway paved over the swamps and creeks that separated North Beach from the mainland - there were so many frogs in residence that the locals often were kept up at night by the noise. North Beach was originally a resort area built by several investors including William Steinway. Amusements (including the East Coast's first Ferris Wheel) came to the resort and were later enclosed in a single park. North Beach was on Flushing Bay which was connected to both the Flushing and East River. By the early 1900's both rivers had become so polluted that the beaches became foul and the sand was replaced with oily mud. Swimmers began to go elsewhere (or use the pool pictured above). Eventually the amusement park became North Beach's only draw. But the owners made the ultimate mistake when they decided to replace most of the pavilions with a massive beer hall. North Beach became well known for it's alcohol and was avoided by families who would journey through the vast wasteland some call Brooklyn, and spend their days at Coney Island. Then in 1920 the Volstead Act was passed banning the sale of alcoholic beverages and shortly after the amusement park went bankrupt. It remained closed for several years. When the Noble Experiment ended in 1933 there was talk about reopening the amusement park, but the land was immediately taken by Robert Moses who suggested that the city could build an airport there. LaGuardia Airport was, in 1929, a 105-acre private flying field but eventually all structures of the amusement area were torn down and the beach was completely filled over.
Ground was broken on September 9, 1937 for a new airport, which was built jointly by the City of New York and the Federal Works Progress Administration. It was dedicated on October 15, 1939 as New York City Municipal Airport. On November 2, 1939, the name was changed to New York Municipal Airport-LaGuardia Field. On December 2, 1939 the airport was opened to commercial traffic.
In 1947, the year the airport was leased to the Port Authority, it was renamed LaGuardia Airport. A new Central Terminal Building was opened in 1964, enlarged in 1967 and again in 1992.


North Beach was one of the first venues catering to a mass market. It was easy to reach with hourly ferry boats from 92th Street and 129th Street on Sundays. Trolley service from both the 92nd and 34th Street Ferries was frequent. (The North Beach resorts were closed by Prohibition in 1920. Today they are buried under the runways of LaGuardia Airport.)

1894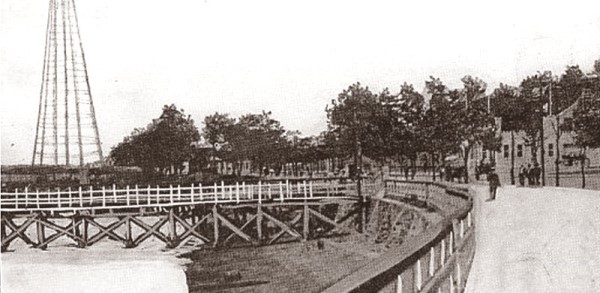 By May, the summer resort season at North Beach was under way and venues of every description advertised their charms. Silver Spring Park claimed it was the coolest retreat at Bowery Bay with old shade trees, nicely arranged dancing pavilions, and picnic grounds. At Sanford's Point Hotel, which served George Ehrets Extra Beer on draft, singing societies and chowder clubs were a specialty. Kohlers New Pavilion had sausage and soda water stands, shooting galleries and swings, dancing (afternoon and evening), and a band concert at night. At Henry Daufkirch's Bay view House and Pavilion, one could enjoy variety performances by first class talent on Sundays. Muff's Bowery Bay Boat House was widely known for its boating and fishing. The North Beach Heights Resort touted itself as ideal for parties societies and families. The Club House and Grand Pavilion had choice wines, liquors, and cigars, meals at all hours (severed to order), and theatrical performance daily (with a change of program weekly). And finally, the famed Bath Pavilion at North Beach offered 25 tickets for $4, single tickets at 25 cents, (children 15 cents.) Of course there was a police presence; in 1899 the 74th sub-precinct was built.

1911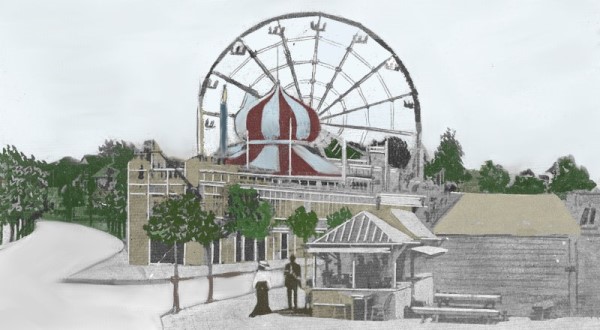 Summer was in full swing with free fireworks at North Beach each Tuesday and Thursday. Daily shows with Chief Red Eagle and Tribe at the Gala Park! All trolleys (some artifacts of which remain) lead to all attractions and amusements!
Someone lit a bonfire near the Grand Pier to chase away mosquitoes. When the police came, Manhattan toughs used rough house tactics. Samuel Hamberger was fined $10. Sany Massinni, 16, was arrested after shooting up the place at Old Bowery Bay Road and Ehret Avenue. Police were suspicious of a victim who placed a claim that men 'trimmed him regulation style' by robbing him of $100 at Jackson Mill Pond.

From 1917 to 1929 nothing much happens at North Beach. A reporter viewing its remains wrote 'nominally still in existence but actually long dead.'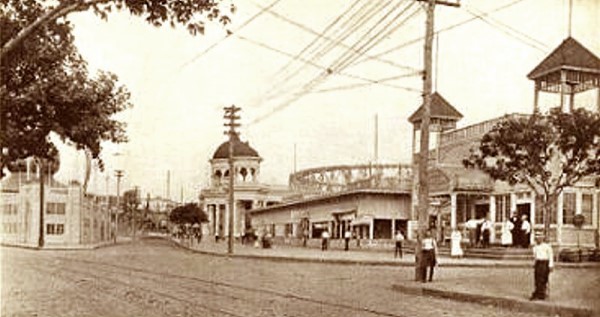 1925

Thousands see North Beach Pier consumed by fire. The dock that was used by ferry boats in heyday of resort goes up in flames. The inferno attracts thousands who arrive in automobiles, on foot and by trolley. The Grand Pier, built for the Bowery Bay Improvement Company by William Steinway and George Ehret, helped make North Beach into one of the first amusement resorts in New York. Ferries ran to College Point, East 99th Street in Manhattan, and East 139th Street in the Bronx. The pier extended 700 feet out into Bowery Bay. It had a massive 300 feet wide two story pavilion at the shore line. The entire structure is ablaze when firefighters arrive. Faulty wiring is blamed. A security guard wastes precious minutes trying to put it out himself.

1929

As Queens experiences its explosive building boom, inadequate transportation leaves North Beach a deserted hamlet while thousands of homes for commuters are built further out in Queens Village and Rosedale. When the airport opened on June 15, and the city proposes an adjoining park, North Beach finally shakes loose from its sleep. New York Air Terminals Co, a subsidiary of Curtis Wright Air, purchases the North Beach tract along with 4,000 feet of shoreline. At about the same time, the city also announces its intent to purchase an adjoining plot with 2,000 feet of shoreline and 103 acres for a park. Soon its the final mopping up of the tangled weeds, distorted shanties, bumpy streets and straggling tidal marsh known as Jackson Mill Creek, but that park ever made it off the drawing board. A Sad fate as Javez Dunningham, President of the Queens Council of Civic Associations in 1930, called it "the most important park of the Queens Park Plan"

In more recent years - Another amusement park also past into History...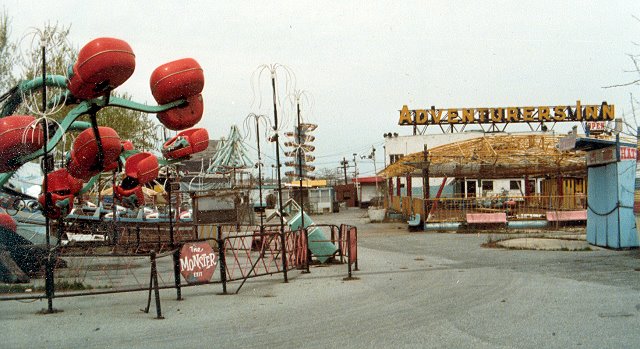 Click here to see more images